2/2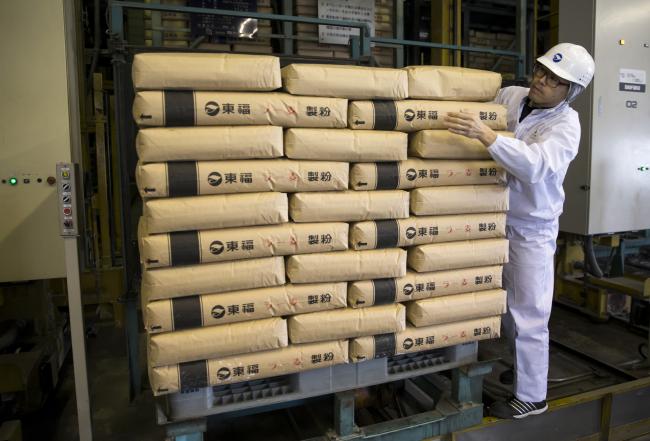 © Bloomberg. A Tofuku Flour Mills Co. employee moves a bag of flour for ramen noodles at the company's warehouse in Dazaifu, Fukuoka, Japan, on Dec. 21, 2017. Fukuoka, on Japan's southern island of Kyushu, is expanding production of a locally-developed variety of grain known as Ra-Mugi that's designed to be perfect for tonkotsu ramen: a dish of cloudy white pork broth, with noodles and slices of pork that originates in the region.
2/2
(Bloomberg) — Japan's slowest growth in two years and a surging yen underscore that the central bank remains locked into a stimulus program that is getting harder to sustain.
The economy expanded for an eighth quarter in the October-December period, the longest stretch since 1989. But the pace of growth fell sharply from the relatively heady figures seen in recent quarters, back to a level more in line with the economy's potential.
If more-realistic expansion continues, particularly with a stronger yen, speculation about policy normalization at the Bank of Japan is likely to cool, even as the Federal Reserve and the European Central move in that direction. The yen rallied on Wednesday to the strongest level against the dollar in more than a year.
The yen's renewed strength won't immediately impact GDP or corporate activity, but could damp inflationary pressures, said Junko Nishioka, chief economist at Sumitomo Mitsui Banking Corp. "The fact that this might prolong the BOJ's easing period is far more serious," said Nishioka, who is a former BOJ official.
Strong growth in recent quarters, steadily rising inflation and surging global bond yields had fueled speculation that the BOJ would soon follow its global peers in turning toward policy normalization, perhaps by letting its yield target rise. Nearly half of economists surveyed by Bloomberg said they expected the BOJ to take its first step later this year.
Concerns are growing about the sustainability of the BOJ's stimulus and how it will manage an eventual policy exit. The central bank owns about 40 percent of outstanding Japanese government bonds, and its balance sheet has swollen to nearly the size of the nation's 549 trillion yen ($5 trillion) economy.
Domestic Demand
To be sure, Japan's economy is still growing at above its potential over the longer term, and the expansion is expected to continue, due in part to global demand. The latest data also indicate that domestic demand is gaining traction after exports drove several quarters of growth at well above the economy's potential.
The "key point" is that the long-elusive "virtuous cycle" of rising business investment and consumption has begun, and is unlikely to be derailed quickly, Jesper Koll, chief executive officer of Wisdomtree Japan Inc., told Bloomberg TV.
Exports remained strong in the fourth quarter, but rising imports, a sign of healthier domestic demand, wiped out the net contribution of exports to GDP. Private consumption and business investment rose. Key figures from the GDP report Wednesday show:
Gross domestic product grew at an annualized rate of 0.5 percent in the three months ended Dec. 31 (estimate +1.0 percent), compared with a revised 2.2 percent in the previous quarter.
Net exports, or shipments less imports, didn't add or subtract anything from growth.
Business spending rose 0.7 percent (estimate +1.1 percent) from the previous quarter.
Private consumption increased 0.5 percent in the fourth quarter from the previous three months (estimate +0.4 percent).
Though the economy looks fairly healthy after two years of uninterrupted expansion, the fourth-quarter slowdown could take some of the wind out of inflation in the near term, Yuki Masujima, wrote for Bloomberg Economics.
Masujima also cited a strengthening yen and rising U.S. protectionism among the risks to the outlook.
Even as domestic demand strengthens, personal consumption remains sluggish — and the final missing link in the virtuous cycle.
"It's hard for the Japanese economy to be self-sustaining when incomes are struggling to rise," said Yasutoshi Nagai, chief economist at Daiwa Securities in Tokyo. "The results were in line with our view," he said, adding that one bright spot was a rebound in household consumption.
sponsoredArticle = 'div-gpt-ad-1466339494851-0';