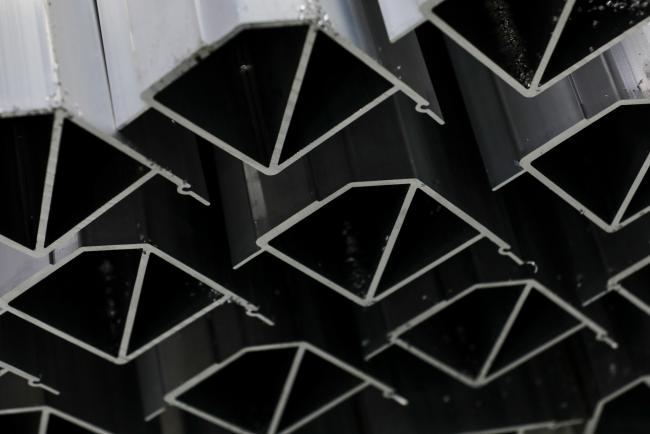 © Bloomberg. Aluminum parts are stacked at the Sapa SA aluminum plant in Bedwas, U.K., on Wednesday, Oct. 4, 2017. After being closed for three years due to a weak market, Sapa's aluminum plant in south Wales reopened to supply lightweight parts for automakers such as London Electric Vehicle Co., the maker of black cabs.
(Bloomberg) — President Donald Trump will discuss potential new penalties on imports of steel and aluminum and other trade issues with a bipartisan group of lawmakers on Tuesday, the White House said.
Trump's meeting with 19 lawmakers — four Democrats and 15 Republicans — will include discussion of his administration's investigation of steel and aluminum imports. Commerce Secretary Wilbur Ross submitted his department's final reports on the metals to Trump in January, and the president has until mid-April to decide on any potential action, which could include tariffs.
"Later this morning the president will hear from bipartisan members of Congress across the spectrum of opinions on trade matters, including the pending 232 cases on steel and aluminum," White House spokeswoman Lindsay Walters said Tuesday in a statement. "This meeting is part of the president's commitment to ensure fair and reciprocal trade policies that support the American worker and grow the American economy."
Trump instructed the Commerce Department last year to probe whether imports of steel and aluminum represent a threat to U.S. national security, under the seldom-used Section 232 of the Trade Expansion Act of 1962. The investigations are seen to primarily target China, which the U.S. blames for creating excess capacity and dragging down global prices. A separate U.S. probe into China's intellectual property practices is also clouding trade relations.
'Reciprocal Tax'
Trump has frequently accused China of unfair trading practices, and he recently told Chinese President Xi Jinping that the U.S. trade deficit with China is "unsustainable." The prospect of Trump turning tough trade rhetoric into action increased last month after he slapped tariffs on solar panels and washing machines, in his first major punitive trade action since taking office.
Trump said on Monday that he would soon announce a "reciprocal tax" — a tax on imports from other countries at the same rates those countries impose on U.S. products.
"So we're going to be doing very much a reciprocal tax," Trump said. "And you'll be hearing about that during the week and during the coming months."
But an administration official said later on Monday that there isn't a proposal for a reciprocal tax in the works.
sponsoredArticle = 'div-gpt-ad-1466339494851-0';